Meet Eric Dompeling of Flowers Delivery Amsterdam
In our flower shop in Amsterdam, Eric is the master: you can come to him for creative bouquet designs but also for all the facts about your favourite flowers. His passion for nature was instilled in him at an early age. His family is full of gardeners and flower lovers, and once you love flowers, it's hard to let go.
How long have you been a florist?
I have been working with flowers since I was 12 years old. My mother made church decorations and flower parades. From the age of 18, I have really been working with flowers every day. Do the math. That's 33 years already!
What is your style?
Although I also really love a bouquet of plucked flowers, I personally prefer to put bunches on the table in an 'English' style. A quiet, romantic bunch, with a maximum of two flower types and some foliage. And then also preferably in one colour, for example a beautiful bunch of peonies with some gloriosa and a grass. That's what I prefer to put on the table myself.
Do you have a favourite flower?
I have lots of favourite flowers. But the Lathyrus is my favourite, I have it tattooed on my arm too. They are very delicate flowers and they smell delicious. I really like delicate flowers, fragile, delicate. I can enjoy them so much.
You really shouldn't ask flower stylists, but is there any flower you don't like?
Oh I do find that difficult yes. Those are the more tropical flowers, which are very cultivated. I like the very pure thing. But it also has to do with the season; I love tulips, but I really wouldn't put a bunch of them on the table in autumn.
Where in the house do you prefer to put flowers yourself?
I always have a big monotone bunch on the table. Preferably with one or two varieties in the same shade. And because I love very small flowers, there are mini vases with different fragile varieties all over my house.
What is the most special flower arrangement you have ever made?
Ahh, there are so many. But I found it very special to be able to decorate King Willem Alexander and Queen Maxima's boat on 5 May.
How do you deal with sustainability?
I think sustainability is very important. I also currently have an application out for various sustainability labels, because we are very conscious about this in our flower shop. We have a sign in our shop showing how much % of our flowers are sustainably grown in a week, I really pick our flowers on that. There is a lot in our industry that a florist can pay attention to in order to be more sustainable - from the cleaning products we use to the flower food and packaging. We are very aware of this and so we really do our best to select, package and deliver our flowers as responsibly as possible.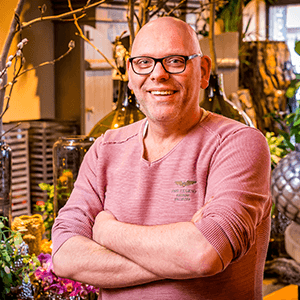 Eric Dompeling - Florist & Owner Flowermoments by Anggrek
Always the most beautiful flowers in your home from your local florist
Ordering flowers over the Internet, it can be tricky. Which florist do I order from and how good are the flowers? A glance at the common complaints about ordering flowers says it all: roses that hang their heads after only two days and bouquets that are not delivered but dumped somewhere by the side of the road. These are examples that motivate us, because this is not how we want to do it.
We are Flowermoments by Anggrek, the local florist in Amsterdam behind Flowers Delivery Amsterdam. Delivering you a smile with high-quality flowers is our goal. We do this through our webshop. So you can easily order flowers while you're sitting at home on the couch or at work. The big advantage of delivering with us? You know who we are. If something does go wrong, you can just drop by.
Crisp fresh flowers from the auction every day
Al onze bloemen zijn knisperend vers. We hebben ze nog nét niet met de hand van 't veld geplukt, maar wel zorgvuldig geselecteerd op de veiling. Elke ochtend gaat onze bloemstylist Eric naar de veiling om daar de sterkste, mooiste en meest bijzondere exemplaren uit te kiezen. Daarom kunnen we je ook garanderen dat de bloemen van de beste kwaliteit zijn en minstens 7 dagen voor je blijven bloeien.
Tips from the Master - enjoying your flowers for as long as possible
Our flowers are very fresh and often we can deliver your bouquet the same day. So no flowering time is lost and you can enjoy your flowers to the full. But of course, you can give your flowers a helping hand to stay radiant for as long as possible. Eric shares his best tips with you:
Provide a clean vase.
Put your flowers not next to the heating, in full sun or in a draught.
Put your flowers too not next to the fruit bowl. Ripening fruit secretes ethylene gas, which makes fruit ripen faster and flowers wilt faster.
Change the water every three days in the vase and cut 2 cm off the stems of your flowers each time. This will keep the 'wound' bacteria-free and your flowers last longer!
When you put your flowers in the vase, also boost them with flower food. No worries, we just supply that with every bunch.
Delivery in Amsterdam and surroundings
Flowers Delivery Amsterdam works with its own delivery service. Do you order your flowers before 13:00? Then we can deliver them the same day, to you or someone you want to surprise. We deliver in Amsterdam and the surrounding area - even in Haarlem and Amstelveen. Of course, this requires good logistical planning. Our delivery staff enjoys taking on that challenge, setting off through the busy streets of Amsterdam, avoiding traffic jams and carefully following our delivery route. We do everything we can to transport your flowers as safely as possible. The flowers are wrapped in foil and some bunches are even already in the vase! Not at home? Then we will deliver the flowers to a neighbour or try again the same day.
Love your flowers: Are you ordering flowers for yourself? Then it's nice if you can also be at home at the time of delivery or leave clear delivery instructions for our delivery driver. Flowers are living products and should preferably be back in the vase as soon as possible. Surprising someone else with a bunch of flowers? Sweet! But check that the recipients do not happen to be on holiday or away for the weekend. After all, that would be a shame! Would you rather visit our flower shop yourself? Of course you can. You will find us at Parnassusweg 3.
Want to have flowers delivered in another city? They also work with florists in other cities: